Outreach effort.
---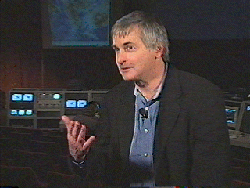 Figure: Seth Shostak at the virtual control center at NASA Ames Research Center, Nov. 17, 1999.
EXPERT COMMENTARY:
At NASA Ames Research Center and the SETI Institute, several experts are available to comment on the Leonid storm. Leonid MAC PI Dr. Peter Jenniskens will also be available for interviews in the period leading up to and during the Leonid campaign.
ARCHIVE FOOTAGE OF METEOR STORMS:
There is abundant footage available of the research activities and the unfolding meteor storm. NASA/ARC provides the base facilities for generating betacam and HDTV images of research activities onboard the aircraft. NHK provides a source Intensified High-D TV and NTSC format video of the meteors and persistent trains. All of that material is in the public domain.
2002 LEONID MAC MISSION OUTREACH
VIDEO NEWS RELEASE
Shortly after landing at 07 a.m. EST Nov 19, a video News Release was issued with a summary of the best meteor shower footage for broadcast later that day. For that purpose, a video studio was set up on the DC8 Airborne Laboratory. Interested media should inquire with the Ames PAO officer Kathleen Burton (kburton [at] mail.arc.nasa.gov).
NEAR REAL-TIME METEOR FLUX:
Data on the 2002 Leonid storm meteor flux was transmitted to Ames in real time and was available on this website just minutes after the measurement were made. The effort was coordinated with the US Air Force, the Aerospace Corporation, and the European Space Agency.
FURTHER INFORMATION:
For further information: contact PAO Officer Kathleen Burton (kburton [at] mail.arc.nasa.gov) or the mission PI, P. Jenniskens.