---

David Holman,
California Meteor Society
---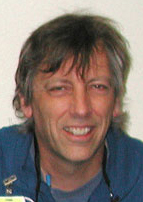 Photo: Jane Houston-Jones 1999
Last updated: October 2002
E-Mail: daveh [at] lmi.net
Homepage
Brief Biographical Information:
David Holman, 45, is an experienced visual meteor observer and makes his living as a residential handyman. He is shown above making good use of a major tool of the trade. He has been interested in astronomy since childhood and began serious visual and radio meteor observing in 1992.
Research:
His main interests are in visual and video meteor observing, and in programming computational tools for astronomy applications. He has been fortunate enough to observe with some of the most active and experienced meteor observers in the world while logging over 300 hours of visual observing time, often operating forward scatter radio observations simultaneously. By participating in the 1999 Leonid MAC mission, he was able to witness the 1999 Leonid storm.
Research on Leonid MAC:
Near-real time flux measurements on the 1999 mission.
Post-mission visual scanning and plotting of the 1999 Leonid storm from the Leonid MAC video tapes. Magnitude estimates were made for each meteor, confirming the low population index of the 1999 storm derived from other observations.
He also did an exhaustive visual study of a short interval of video tape from the 1999 Leonid MAC mission and published a paper with Peter Jenniskens in WGN, the Journal of the International Meteor Organization, on the efficiency of detecting video meteors and the absolute calibration of the meteoroid influx.