---

Armin Kleinböhl,
Institute for Environmental Physics, University of Bremen
---
Last updated: October 2002
E-mail: kleinb [at] iup.physik.uni-bremen.de
Homepage.
Brief Biographical Information:
Born in 1973 in Germany, Armin Kleinböhl studied physics at the University of Frankfurt / Main, Germany, and at the University of Southampton, UK. He earned a degree in 1999 with his diploma thesis "Experimental investigations for the development of a 2pi fission fragment detector". Since then he has been a PhD student with the Institute of Environmental Physics at the University of Bremen, Germany.
Research:
Armin Kleinböhl performed research in nuclear physics, focussing on nuclear structure and heavy-ion physics, using means of gamma ray and particle spectroscopy. Currently he is doing reseach in atmospheric physics, with a focus on stratospheric dynamics and chemistry in the polar regions, applying sub-mm spectroscopy. Recent work dealt with denitrification, the loss of nitrogen oxides in the stratosphere by particle sedimentation, and their influence on ozone depleting chemistry in the Arctic.
Research on Leonid MAC:
The sub-mm radiometer ASUR will be used on board the DC-8 aircraft to search for organic molecules introduced by the meteors into the upper atmosphere as well as to determine changes in the upper atmospheric chemistry caused by meteoric influence.
Report on 2002 Leonid MAC participation.
Further information: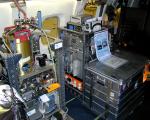 ASUR integrated in the NASA DC-8 during the THESEO 2000 / SOLVE campaign in winter 1999 / 2000.