The latest update on developments concerning the Leonid MAC airborne campaigns.
---
Update November 26, 2001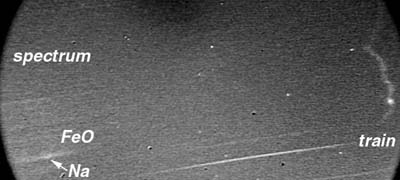 Slit-less spectra of persistent train emission.
PERSISTENT TRAIN EMISSION
Not one, but several persistent trains were captured in low-resolution spectra by Czech astronomer Dr. Jiri Borovicka, who obtained similar results during the 1999 Leonid MAC mission. Dr. Borovicka observed from our ground site at Mount Lemmon Observatory near Tucson, Arizona. The spectrum in the figure is from the bright fireball that was reportedly seen in the night prior to the Leonid storm at 12:57 UT (Nov. 17). It shows the zero-order image to the right and the first order spectrum to the left. As before, the spectrum shows an emission line from sodium and a broad molecular band emission that was identified as the "orange arc" emisison of FeO based on observations from the 1999 Leonid MAC mission and laboratory analysis by Dr. John Plane of the University of East Anglia. In addition, there is strong emission at longer wavelengths in the red and near-IR. Dr. Borovicka also obtained spectra at an earlier phase, showing numerous lines caused by the recombination of ions and electrons. This is a newly recognized phase in meteor spectroscopy.
More results can be found at Dr. Borovicka's Leonids 2001 site.