---
Which facilities participated in 2000?
The Cesna 130 aircraft
No Leonid MAC mission in 2002, because of low predicted peak rates and a nasty Moon. Onboard a twin engine Cesna 130 aircraft, Peter Jenniskens of the SETI Institute at NASA Ames Research Center and Bo Gustafson and Ludmilla Kolokolova of the University of Florida at Gainesville had the best view of the shower. Meteors were recorded with intensified cameras positioned on the front seat, pointing forward and to the right. The airborne effort was made possible by Gustafson and pilot Pat Bainter of Gulf Atlantic airways at Gainesville, Florida. A new Data Grid Geo-ID Mk 1 global positioning system was tested that recorded the aircraft position to cm accuracy.
Ground-based observations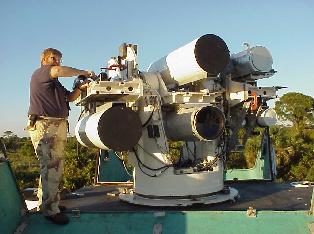 ISTEF mobile telescope platform.
Other Leonid MAC participants observed the Leonid showers from Florida, at a site near Jupiter (Palm Beach County) and from ISTEF at at Kennedy Space Center (south of Volucia county), and from the Mount Lemmon Observing Facility (MLOF) near Tucson, Arizona, the Haystack Observatory in Westford, MA, and at locations in Spain.